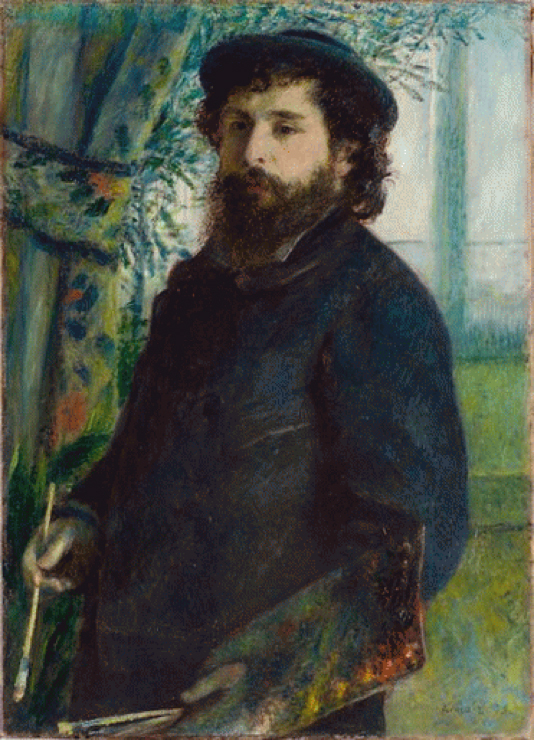 Oscar-Claude Monet was a French painter and founder of the Impressionism art movement.  Monet was born on November 14, 1840 in Rue Laffitte, Paris, France to parents Louise Justine Aubrée Monet and Claude Adolphe Monet.
Claude married his first wife, Camille Doncieux, in 1870.  The couple had two sons.  Claude and Camille's eldest son, Jean Monet, was born in on August 8, 1867.  Claude and Camille's second son, Michel Monet, was born on March 17, 1878.
Claude Monet and Camille Doncieux divorced in 1879.
Claude married his second wife, Alice Hoschede, in 1892.  Claude and Alice had no children together. They divorced in 1911.
Claude Monet died on December 5, 1926 in Giverny, France.
Claude Monet Artwork
Claude Monet painted over 2,500 paintings in his lifetime, although the exact number is unknown.
Below is a list of some of his most notable artwork:
Impression, Sunrise (1872)
The Artist's Garden at Giverny (1900)
Woman with a Parasol – Madame Monet and Her Son (1875)
The Water Lily Pond (1899)
Poppies (1873)
Water Lilies (1919)
San Giorgio Maggiore at Dusk (1912)
Regattas at Argenteuil (1872)
Water Lily Pond (1900)
Irises (undefined)
Beach in Pourville (1882)
The Magpie (1869)
The Beach at Sainte-Adresse (1867)
Morning on the Seine near Giverny (1897)
Water Lilies and Japanese Bridge (1899)
Women in the Garden (1866)
The Saint-Lazare Station (1877)
Garden at Sainte-Adresse (1867)
Camille (The Woman in the Green Dress) (1866)
The Beach at Trouville (1870)
Reflections of Clouds on the Water-Lily Pond (1926)
Corner of the Garden at Montgeron (1877)
Bain à la Grenouillère (1869)
The Lunch (1873)
The Waterlily Pond: Green Harmony (undefined)
The Artist's House at Argenteuil (1873)
Woman Seated on a Bench (undefined)
Bathers at La Grenouillère (1869)
Branch of the Seine Near Giverny (Mist) from the "Mornings on the Seine" series (1897)
Snow at Argenteuil (1875)
The Museum at Le Havre (1873)
The Manneporte near Étretat (1886)
Poppy Fields near Argenteuil (1875)
The Basin at Argenteuil (1872)
The Houses of Parliament, Sunset (1903)
Arrival of the Normandy Train, Gare Saint-Lazare (1877)
The Japanese Footbridge (1922)
Le Grand Canal (1908)
Stormy Sea in Étretat (1883)
Wheatstacks (End of Summer) (1891)
Rue Montorgueil (1878)
Luncheon on the Grass (1866)
Three Trees in Grey Weather (1891)
Poppy Field (1886)
Waterlily Pond, Harmony in pink (undefined)
The Seine at Lavacourt (1880)
Lavacourt under Snow (1881)
Woman with a Parasol, facing left (1886)
Camille Monet In Japanese Costume (1876)
Woman in the Garden (1867)